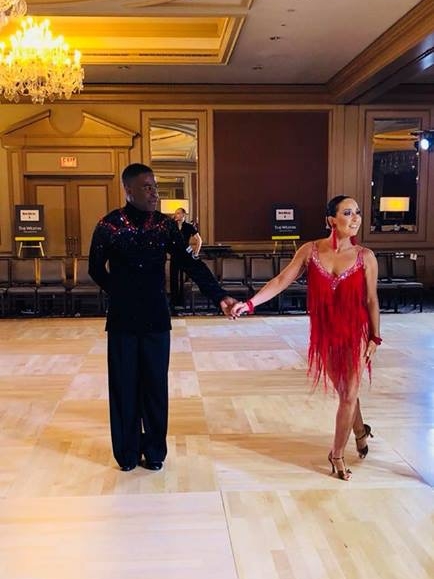 On Being a Competitive Dancer, Professional, and Mother
I remember coming to the studio for the first time. It was not too long after I had given birth to my son. I was actually looking for a mommy and me yoga studio nearby and BOOM! There it was, my pre-mom dream, my pre-mom identity, within five steps reach.
It was a bittersweet moment, shrouded in memories of the high-level ballroom dancer I had wanted to be and the new mother I had become. I walked through the door with baby fat and flip flops, my three-month old in a stroller, and the seedling of attitude that somehow gave me the strength to ask about lessons.
It took me four months to call back, make an appointment, and acknowledge out loud what I really wanted to do.
Why was it so hard to make that call? I am a competitor. I always have been. I don't want to train just "for fun." I want to be a force to be reckoned with. I was not reborn when I became a mother. I thought this part of me might die after I had my son, but it didn't even dissipate. At that point, I realized I had the very same desires, less time because I am not only a mom but also a professional, and a body that was less familiar than I would have hoped. It's scary to have a fractured personality, to feel like you'll fail one side of yourself if you nurture the other.
The truth is, I'm more whole now. Being a competitive ballroom dancer nourishes me as a woman, a professional, and as a mother. The dance floor is a creative space where I can reinvent myself. The studio is a place where I can recharge for my motherly and my professional roles. The ballroom is a place where I can continue my story in a way that makes sense of my multiple identities. I wish I had called sooner.
-Kacey Warren, Manager and Student at Ballroom & Beyond